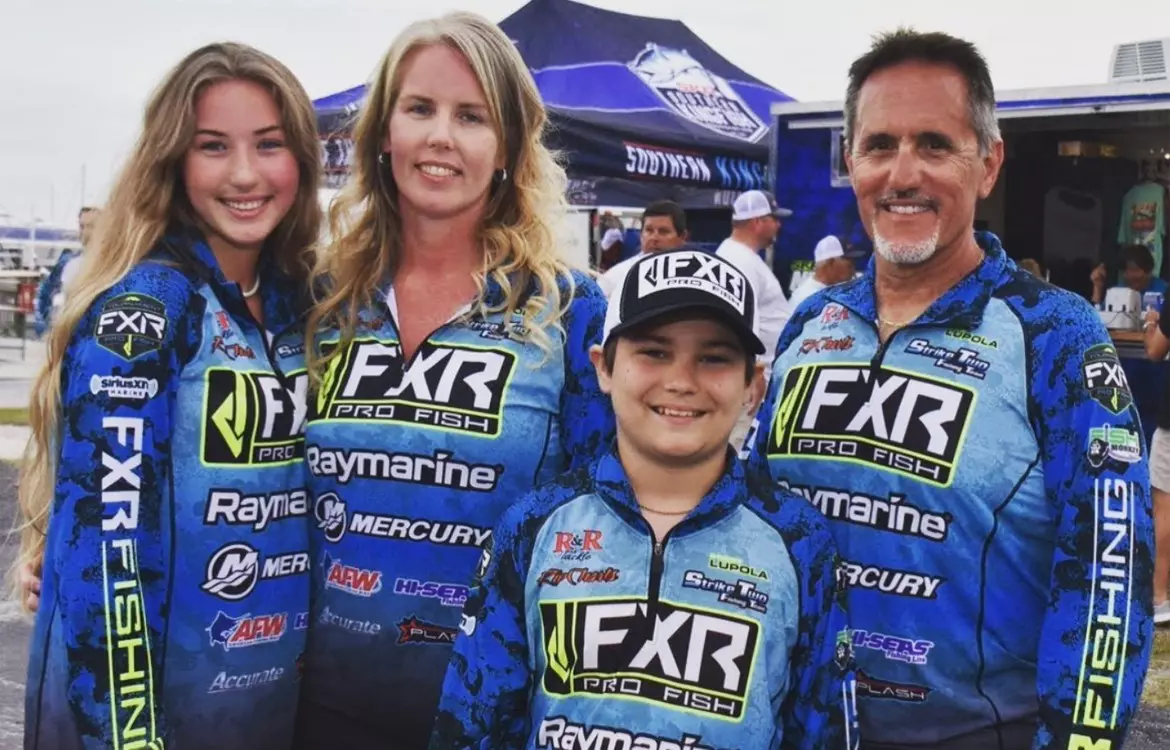 Captain Rob Lupola of Pensacola, Florida says the greatest gift he's ever received is his parents' unwavering support and involvement, not only during his childhood but into his adult life. "Being able to raise my own kids the way my parents raised me – by staying involved in their lives on a daily basis and doing whatever I can do to give them great experiences and watching them grow – to me, that's the most rewarding part about being a dad," says the father of two and Captain of the Raymarine/Strike Two Fishing Team.
Lupola, USAF retired, began tournament fishing in 2002. His wife, Kelly, has been fishing alongside him for the last ten years. "We got the kids involved in fishing as soon as they were old enough to say the word," Lupola recalls, referring to his now-13-year-old son, Bobby and 15-year-old stepdaughter, Alyssa. The kids started fishing tournaments with mom and dad about two years ago.
"The goal when we did this was to have everyone involved together as a family," Lupola states. "Bobby and Alyssa really took to it and contribute heavily to the success of the team. Right now, they are in charge of catching bait and fighting the fish. They also help with preparation and clean-up. Just like any team member, they'll continue to get even more involved as they get more experience."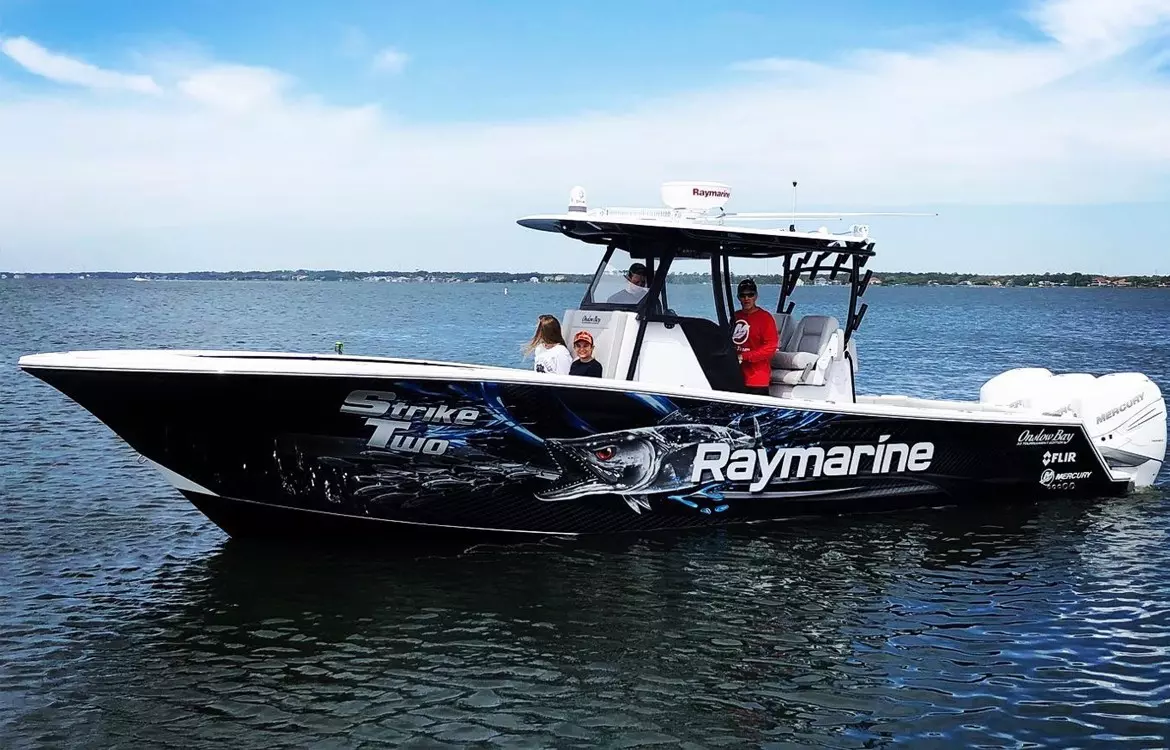 Lupola admits it's becoming increasingly difficult to separate his youngest team members from the helm of his Onslow Bay Boatworks 33' Tournament Edition center console. "Yeah, they love to drive," he says. "We're still working up to that, but they are definitely getting a kick out of learning everything we can do with our electronics," the 16-year Raymarine pro says. "We run a pair of Axiom® XL multifunction displays, RVX1000 high-performance 3D CHIRP sonar, radar, ClearCruise™ AR, a Teledyne FLIR M364C dual-payload camera, SiriusXM Weather and more, so there's plenty for them to play with and learn. There's simply no way we could experience the success we've enjoyed without Raymarine's technologies, products and support. They certainly give us a competitive edge, but just as important, the overall heightened awareness they deliver gives Kelly and me peace-of-mind in having the kids out on the water fishing and competing with us."
The Raymarine/Strike Two Fishing Team regularly competes in the SKA Series Open Division, as well as in other kingfish tournaments along Florida's west coast. "We generally fish about a dozen tournaments a year," Lupola says. "Some are as long as four to seven days, but most of them are just long weekends, which makes it pretty easy for us to travel and compete as a family."
Lupola realizes not every father has the opportunity fish competitively with his kids and family the way he does. "It may not be tournament fishing, but fishing and boating really are great ways to involve your entire family in a sport or a pastime. We're blessed to be able to do that in a fun and special way that requires teamwork, which pays dividends when we are off the boat at home, too. I'd recommend fishing and boating to anyone. I think we saw quite a bit of that happening last year because of COVID. Boat sales and fishing tackle sales have been crazy because they're things families can do together when other forms of recreation and activities were shut down."
When asked about his plans for Father's Day weekend, Lupola says they are still planning to be fishing in the Pensacola Fishing Rodeo. "Right now, we're playing it by the hour, because it looks like there's a pretty big storm headed this way, but if we can't compete, I'll just be enjoying time with the kids and Kelly," he says.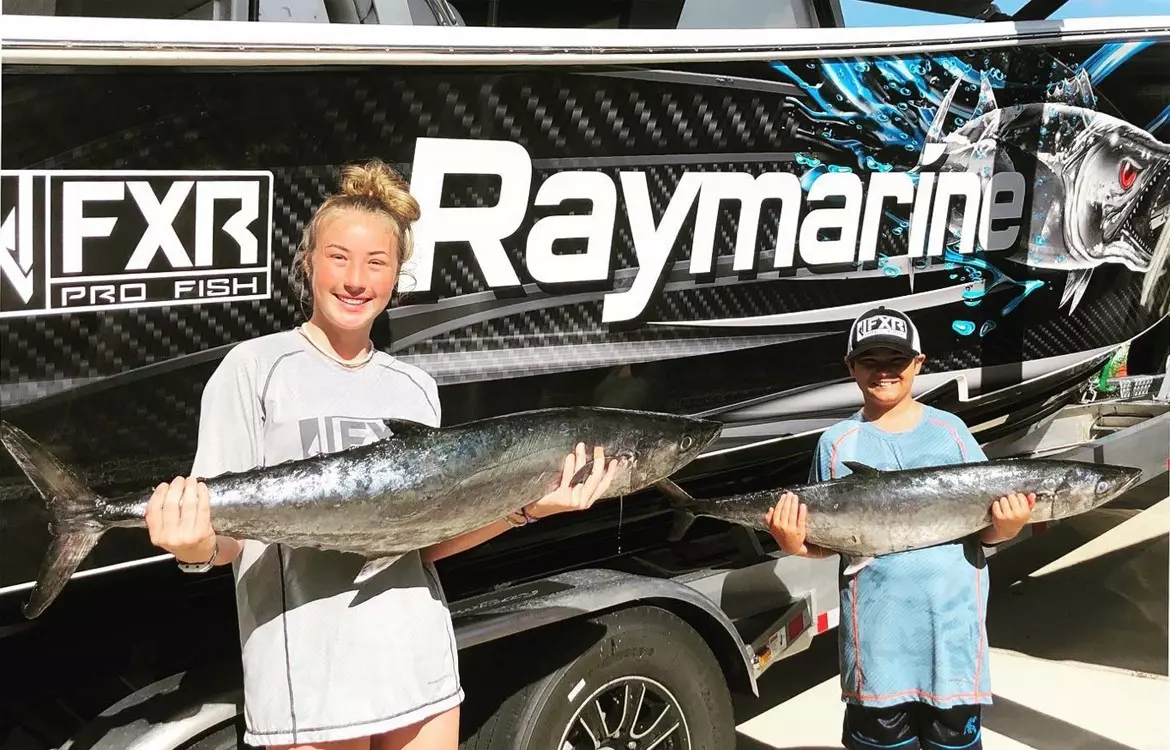 And that's what being a father all boils down to for Rob Lupola, who offers other fathers some simple advice. "The most important thing is to just stay involved with your kids. Do whatever you want," he says, "but show them you love them by spending quality time together. They may not appreciate it now, but they certainly will be in the future. I know this because of the way my parents raised me. It's the greatest gift I've received in my life and it's the same thing I'm trying my best to do every day for my kids. When they get older and have families of their own, I'm hoping they'll do the same."
Keep up with the Lupola family and the Raymarine/Strike Two Fishing Team on Facebook and Instagram.