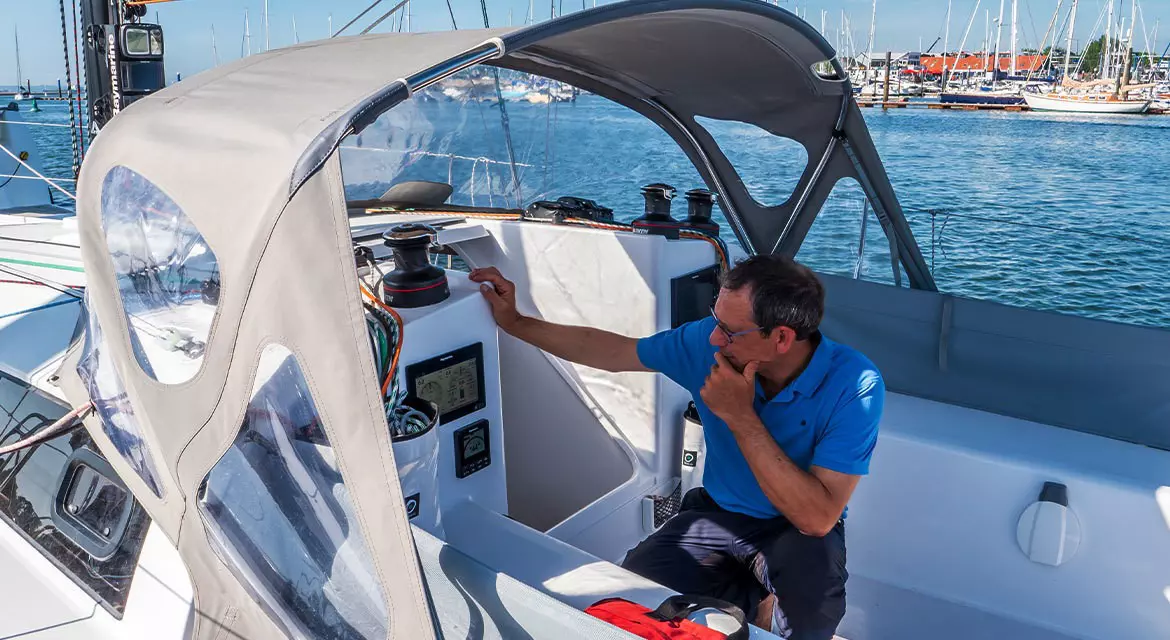 If you were to summarise, in a single sentence, the appeal of motor-sailing with electric rather than diesel propulsion, you'd naturally point out that it's quieter, cleaner, and friendlier to the environment. These obvious advantages make it difficult to understand why anyone might wish to take an opposing view; but there are even more recommendations for an all-electric set-up, as Mark Johnson, Leader of Marine Innovation for Raymarine products, can personally confirm.
For two consecutive years, 2019 and 2020, Mark has undertaken summer sails in his all-electric Pogo 30, Zephyr. Last year, he embarked upon a seven-week trip from France to the UK and back, while this year's round-trip took the form of a three-week summer family cruise between Vannes and La Rochelle. When quizzed about the decision-making process which led him to forego diesel for an all-electric setup, Mark's enthusiasm is persuasive. "It doesn't make a noise, there's no vibration, it doesn't smell, it weighs far less, power is instantly available, and it doesn't need servicing in the winter. What is there to complain about? Especially if you've got a nice clean sailboat; electric propulsion is obviously so much better."
The electric installation on board Zephyr is extensive. A pair of Torqeedo Power 48-5000 lithium batteries power the electric motor, charged by a Solbian 1kW flexible solar panel coupled with 47V MPPT solar charge controllers. This arrangement is matched with a full complement of Raymarine products, starting with an Axiom MFD (multifunction display) and a Raymarine digital switching control system connected to the network. This means the MFD can show a range of electric propulsion details and the screen is shared with a chart data sidebar. Additionally, the Pogo is outfitted with a Raymarine Evolution autopilot. Mark interacts with the autopilot through both his Axiom MFD and two remote Evolution P70 autopilot control heads.
Electronics integration
So successful has this electronics integration proved that Zephyr has latterly become a technology demonstrator for Raymarine; not that this was part of Mark's original plan. "I was really just focused on how to get a solar-powered system that actually worked," he recalls. "I think the demonstration aspect only came about after I saw the Torqeedo display. I was excited about the concept, but I thought we could leverage the Raymarine experience to present relevant information more clearly".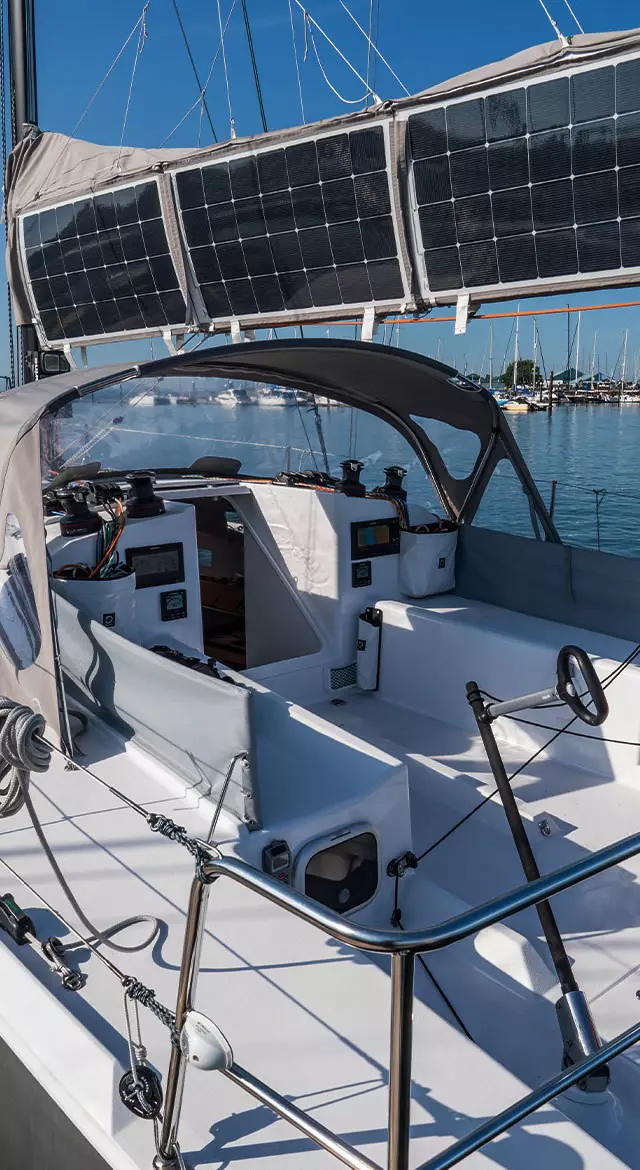 Mark decided to talk this through with his Raymarine colleagues. After much discussion it was suggested that the display readout could be replaced by using digital switching. Mark then devoted some thought to the data he would like to see displayed, and how this data could be measured. The measures he decided on included state of charge, range, solar production, energy consumption and net power.
The 2019 and 2020 summer sails made for perfect test runs, and the electrical installation acquitted itself impeccably both times. "On our big Channel trip in 2019," Mark remembers, "the weather was awful but there was plenty of wind for sailing and enough daylight to keep the batteries charged all the time." Meanwhile, Mark characterizes their mostly sunny 2020 cruise as "dead easy": even on days when there was no wind, running the motor at 1kW while fishing for short stretches at 3.5 knots achieved a perfect balance between the family's requirements and the solar-electric system's requirements".
"There's no problem with power since the family's constraints are exactly in line with the solar electric constraints – no one wants to do 10 hours of motoring; you just have to plan well" Mark observes. "We would go from a port round to a beach for a couple of hours, enough time to catch some mackerel. If you're just trickling along fishing, everyone's happy!"
"So many benefits"
The Raymarine Axiom MFD kept Mark informed of the battery status and power flows throughout, enabling him to plan energy strategies more effectively he noted that on sunny days, the solar array tended to peak at 600W around midday, which rapidly topped up the batteries. Popping the solar panels out to their horizontal position maximized the power output as well as shading the cockpit nicely from the sun's rays.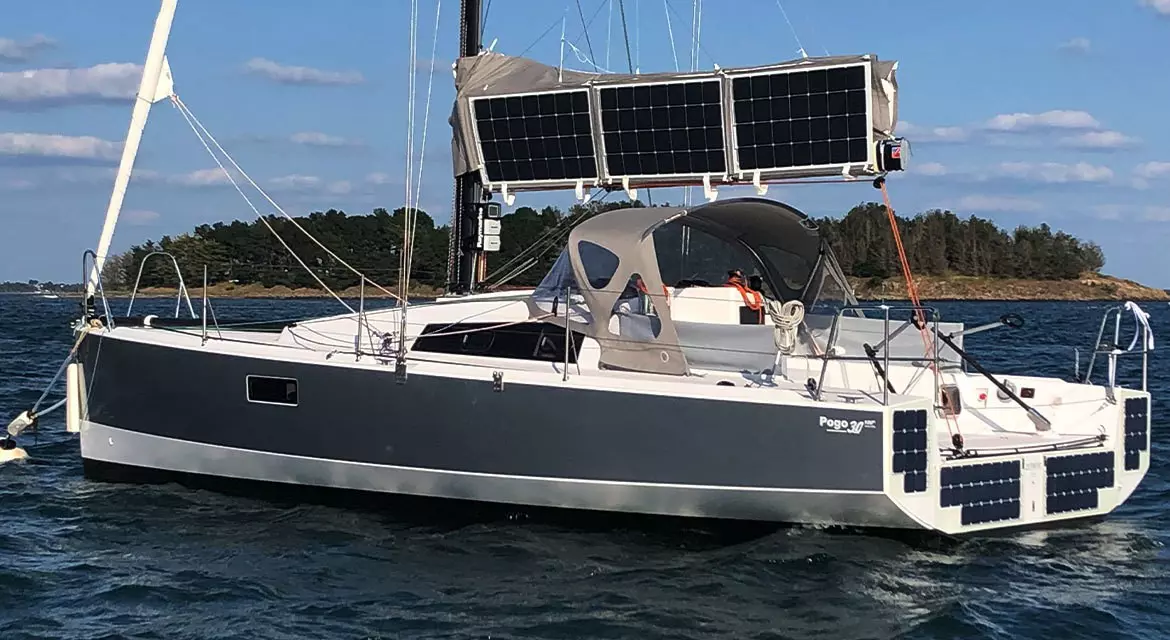 When asked to list the benefits of the all-electric installation on his Pogo 30, Mark ponders for a moment. "There are so many, but I think the single biggest benefit is the space saving, because without that you'd really need a 36ft boat for family cruising."
Like all boaters Mark wanted to maximise the space on his boat. He was able to use the engine room for the life-raft and the space which would have been required for the diesel tanks as a Hanging locker, providing a space saving bonus to electric power.
There were additional benefits associated with this, "Being able to accommodate the family in the 30' boat, I feel that we have a lighter and easier to handle boat with less money required in terms of cost per space. This may encourage people to start boating as they find that increased levels of comfort become more affordable".
Mark feels that this is just the beginning of going electric. "If you look at the cost curve of lithium-ion batteries, they double in capacity and halve in price every four years, so an all-electric solution is increasingly becoming a more desirable and affordable option."
Mark is passionate about sharing the details of this solution with others and bringing this solution to the wider market. Mark closed the interview in anticipation, "I look forward to seeing more of these installations out on the water."