Sanctuary Cove Boat Show: 25-28 May 2023, Raymarine is pleased to confirm that Australian boatbuilder Maritimo will offer the benefits of the Raymarine YachtSense™ system to new owners of its class leading motor yacht, the Maritimo S55.
YachtSense™ is the next step in digital switching solutions, allowing boatbuilders to connect all a yacht's devices, enabling captains to have total awareness of the boat's systems, from anywhere on board or off the boat.
Each YachtSense™ Digital Control System is built upon a fully customised user experience. A bespoke user interface option for the S55 delivers a modern and elegant vessel automation solution, integrated seamlessly into the vessels cutting edge glass bridge helm station. Thanks to YachtSense™, it is now possible, right from the helm of the S55, to not only monitor mechanical systems but also take control of the vessel's amenities.
Beyond automation and control on the boat, YachtSense™ also offers greater off-the-boat connectivity via the simplicity of a smartphone app. Tom Barry-Cotter, Managing Director, Maritimo said: "We are delighted by the functionality Raymarine is able to offer with the YachtSense™ Digital Control System. The ability to check the boat while at home in the living room can give such peace of mind. This encompasses everything from fluid levels, control of electrical systems, setting up modes onboard the vessel, to telling owners when maintenance is due."
The system's Maintenance Section records data so that maintenance crews can log in remotely and diagnose an issue. The crew can come to the boat with the correct tools and equipment required for the specified maintenance. This feature can save time, hassle and often cost.
The new S55 is the latest evolution of Australian motor yacht builder Maritimo's long-standing experience in long range cruising design. The S55 fuses the latest advancements in nautical technology and design, providing a perfect canvas at Sanctuary Cove to showcase the Raymarine YachtSense™ system.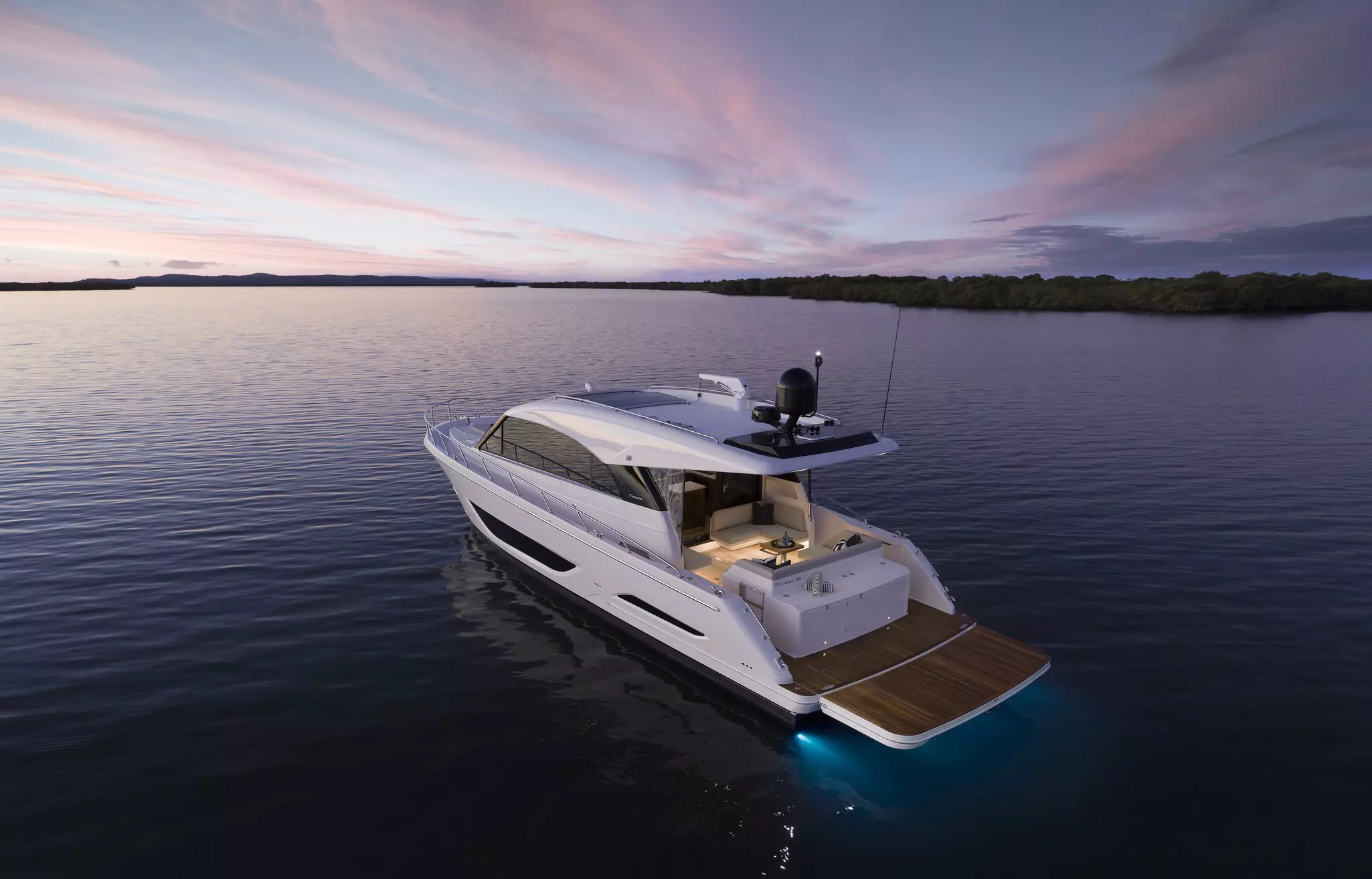 Grégoire Outters, Managing Director at Raymarine said: "Raymarine is delighted to announce this partnership with Maritimo, an iconic Australian brand. The YachtSense™ System onboard Maritimo S55 has been engineered to deliver sophisticated functionality and awareness, allowing users simplistic and intuitive control."
Tom Barry-Cotter continued: "The functionalities that Raymarine brings to the table with YachtSense™ chime perfectly with Maritimo's customer base. Data is everything on a modern motor yacht and our owners are seeking greater connectivity and control, both on and off the boat. The Raymarine YachtSense™ system gives Maritimo owners a vast array of information and control at their fingertips – much as we see in modern cars."
A key benefit of YachtSense™ is that it provides all the benefits of increased data availability without running the risk of information overload, as Raymarine's Technical Services Manager, Joshua Wilson explains: "The beauty of Maritimo's YachtSense™ implementation is that the tech isn't in your face. You don't even need to (knowingly) interact with it if you don't want to. Everything can be switched on and off with good old-fashioned buttons. YachtSense™ just monitors all the onboard systems like the perfect ship's engineer who never sleeps. It silently keeps watch in the background, sounding an alarm to alert the skipper/owner of anomalies before they become problems. When configured to do so YachtSense™ will also step in to stop a potentially dangerous or costly occurrence like running a pump dry."
A Maritimo S55 showcasing the full Raymarine YachtSense™ system will be on display at Australia's Sanctuary Cove Boat Show, which will run from 25 - 28 May 2023.